Meet the Team
We wouldn't be able to help deliver a whole host of successful events all year round if it wasn't for the help of a fantastic team. Find out more about us below.
Josh Hignell
Founder/Director
One hungover Friday as a Loughborough university Business student in 2011, the coursework was set and Blast was created! Flash forward a few years and Josh has now grown this idea, into being the founder of a very successful Event Equipment Hire company. Starting out in the Bristol events industry at a young age has enabled Josh to bring an up-to-date and modern approach to his business, that clients running events today can relate to. He is constantly working on the business development of Blast and exploring other avenues to keep up with the ever-growing industry. He oversees the day to day duties of all team members, including the logistics and scheduling of the delivery runs and general upkeeping of the warehouse and company ensuring that everybody is doing their job!
In his (rare) spare time when he isn't working at the weekend, Josh is our very own Bear Grylls and enjoys nothing more than off-roading in the Sahara Desert, camping around Canadian national parks and hiking around the Brecon Beacons (to name but a few!).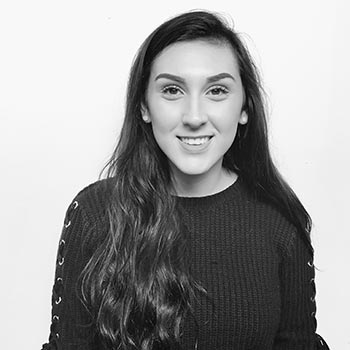 Lily Hyett
Hire Co-ordinator/Admin Assistant
Lily is the youngest team member at Blast but you wouldn't know this from her experience and knowledge that she brings to the team! Lily is responsible for the admin side of the company and ensures that no order gets released before receiving all necessary contact details and delivery information required, which enables a smooth delivery process on the day! She assists in the taking and processing of orders and will even go into the warehouse to help pick the orders when she isn't too busy in the office! She has many other "background" duties in her admin role and is essentially the cog for keeping what is naturally a chaotic industry, organised!
Out of the office she likes to live by the 'work hard, play hard' motto! When she isn't working hard at the gym, she is planning her next holiday and enjoying Bristol City's nightlife like the bubbly, social butterfly that she is!
Leanne Benney
Warehouse Manager
Leanne is the person responsible for organising the warehouse and her team to ensure that everything runs smoothly once the office team has passed on the orders. Leanne ensures that all orders are picked correctly, loaded onto the lorries efficiently and sent off with the correct driver and drivers mate each morning. She assists Josh in the scheduling of all deliveries, and is the main link between the warehouse team and office team – and this isn't just because she loves a chat! It's not an easy task managing this group but if there is anyone who can handle the warehouse guys, it is Leanne!
When she is not managing the warehouse, Leanne loves to explore Bristol's culinary scene with friends, sometimes visiting several restaurants in one night! Leanne is very family-orientated and thoroughly enjoys spending her free time taking her nephews out on day trips.
Caroline Tyson
Quality Control
Quality control is the perfect description for Caroline's role at Blast! She ensures that all crockery, cutlery, glassware, kitchenware etc. is meticulously cleaned and inspected before items are put back into their place, ready to go out to the next client. She has adopted the 'mum' role of the team by ensuring that there is always coffee and medicines available and goes above and beyond her duties at Blast by regularly monitoring the staffroom, kitchen and other areas, ensuring that the warehouse is a clean and pleasant environment for all team members.
When Caroline isn't busy looking after the Blast team, she is also the mum of four daughters which keeps her pretty busy at all times!  That doesn't mean she can't have a bit of 'me-time' though as she regularly goes swimming, walks her dog and enjoys her new hobby of tending to her brand-new garden!
Esther Drewe
Accounts Payable
Esther is Blast's bookkeeper and is responsible for ensuring that all the bills and staff get paid on time and in full and the tallying and cross-referencing of all payments in and out of the company. Additionally, she is the person that tries (and fails) to reign in Josh's purchases of new equipment and vehicles etc. for the company! Although Esther is only in the office for Blast one day a week, she is not any less of an asset to the company!
In her spare time, Esther can be found ferrying her two daughters to gymnastics, university and swimming all over the country.
Tina Hignell
Accounts Receivable
Tina plays a crucial role within Blast and is responsible for collecting all outstanding debts in line with customer payment terms. Although wonderfully polite and friendly, you do not want to get on the wrong side of Tina! Her polite but direct approach means our outstanding payments are never outstanding for too long! She also is responsible for ordering in new items and equipment for Blast and will do all it takes to get the best deal!
When Tina isn't mothering her three 'children' or decorating her new house, she is busy planning the next family holiday or family gathering – which isn't an easy task when there is 23 of them!
Delivery Drivers / Warehouse Team
Of course we can't forget our lovely group of delivery drivers and driver's mates! These guys spend their days loading/unloading lorries, fixing and testing equipment on a regular basis, clearing the warehouse and delivering/collecting (sometimes across the country) to and from clients' events. They are incredibly hard-working and friendly and are sure to deliver your order with a smile! They will go above and beyond to ensure that you are happy with everything on-site – they will even go that extra bit further if you offer them a coffee!
Amazingly when they're not working together in the warehouse, they are spending time together on fishing weekends, nights out and even bingo trips! The cheeky, friendly vibe that you will get from them when they deliver/collect your order is down to the fact that they are genuinely good friends, which makes for a remarkable working atmosphere.

Hire for Your Event Today